How to Order
I'm proud to offer my images in the following formats:
Colorplak Mounts, Standard Prints, Digital files
---
Colorplak Mounts
This is a modern, classy and affordable way to display your new fine art piece.
"Colorplak is an alternative picture framing process where your image is dry mounted onto Medium Density Fiberboard (MDF) and then sealed under heat and pressure with 80% UV protective matte finish vinyl lamination and finished with a beveled edge in your choice of over 30 colors. The final result is a non–glare, easy to clean, professional looking product at a fraction of the cost of traditional custom framing."
-Colorplak website
Here are some examples of my images on the "Colorfloat" mount (my favorite):
With spotlighting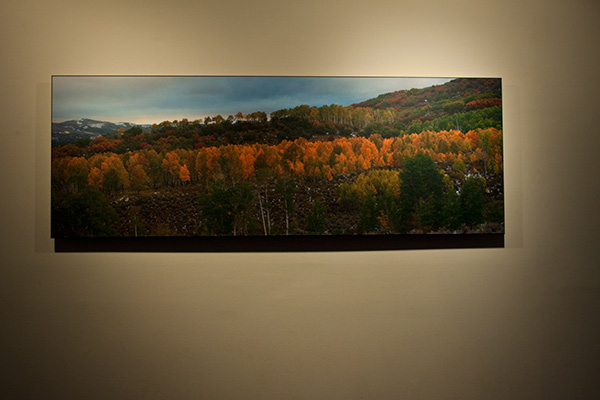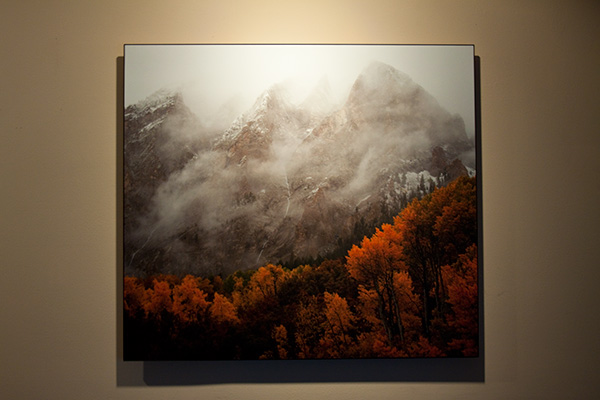 with center room "flood" light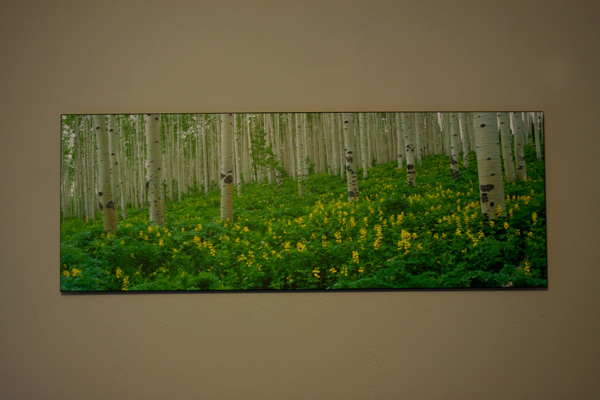 Here's an edge close up showing the standoff from the wall.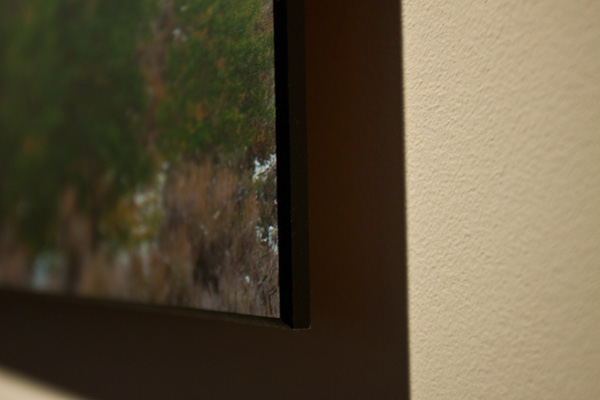 You can order virtually any size in ColorPlak mounts up to 80 inches on the long side (some of my older images will not enlarge this far though.)
Here is a link to descriptions of the Various Colorplak Mounts available.
Here are some example prices for Colorfloat mounts:
(Prices will vary depending on mount style. Colorlite costs slightly less, Colorbox slightly more.)
| | |
| --- | --- |
| SIZE | PRICE |
| 8X10 | $100 |
| 11X14 | $160 |
| 16X20 | $240 |
| 30X30 such as the one above | $300 |
| 20X55 panorama such as the examples above | $360 |
The pros of Colorplak mounting:
Classy, Clean Look!
Tough!
Easy to Clean!
NO GLARE or REFLECTION!
Seems to "glow" with vibrant color even with the matte finish!
Affordable!!
Cons:
Doesn't have the classic framed look. (If that is what you are looking for)
---
Standard Prints
Prices for Epson 2200 and 9600 prints (premium luster finish, Ultrachrome pigment inks):
(Please see the "About" page for more detailed information regarding prints).
PRINT SIZE
PRICE


8X10
(8X12)

$45.00
11X14
(11X16)

$80.00
16X20
(16X24)

$120.00



24X30 and up


Please call or email

Panorama (8 to 15 inches on the short side)

120.00

Panorama (16 to 25 inches on the short side)
160.00
Prints from these Epson printers using Ultrachrome pigment inks will last a very long time. The Wilhelm Institute has rated their longevity at 70+ years under glass.
---
Digital Image Files
The images are also available in various digital formats, dimensions, and resolutions such as ".tiff, .jpg, .gif, bmp, etc."
To request a digital image, please e-mail me with your specific requirements and intended use (commercial, editorial, etc.) and I will get back to you with a very reasonable fee.
---
2 payment options for your convenience! (Please contact me if you are outside of the U.S.)
---
PAYMENT OPTION 1: Email order / PayPal Invoice and Payment.
Send me an
email
or call me (970-620-3205) with the following information:
1) The description and print number from the gallery, 2) size and presentation (print only or Colorplack mount) 3) name and physical address to ship to. 4) email address, (Phone number is highly recommended in case I need to reach you quickly, but optional)
I will generate a custom PayPal invoice which you will receive via email. You can pay with your PayPal account or with your credit card (through PayPal). You do
NOT
have to have a PayPal account, just a credit card will suffice.
Please allow 2 weeks for delivery
after
your payment.
---
PAYMENT OPTION 2: Email order and Payment by cashiers check (USA only).

Send me an email or call me (970-620-3205) with the same information in option 1.
I will generate a custom PayPal invoice which you will receive via email but ignore the payment options in this email. It will only be used to confirm your order. Send me your cashiers check for the EXACT amount on the invoice NO EXCEPTIONS. Upon receipt of cashiers check and verification of funds (10 days to 2 weeks) we will process your print order. Please allow 2 weeks for delivery after money order funds have cleared.
This option will obviously take longer as I will not begin any processing until the funds are in my account and verified from the source of the check. (Sorry, cashiers check scams are to blame for this long process.)
---
Return Policy

:

On U.S.A. puchases only.
Under $500

If you are not satisfied with your purchase for any reason within 7 days of receipt just return it in the original shipping package in

undamaged
condition
and I will refund the full purchase price!
(But please tell my why you weren't happy.)

Over $500
Returns on orders over $500.00 will only be accepted for defects in workmanship within 7 days of receipt. Please be sure of your order when making a purchase this large.
Shipping insurance is included in the shipping cost on all purchases but it is the buyers responsibility to make a claim if necessary
. I will help you follow up on my end. Fortunately this is very rare.
Sorry, there is no return policy for images shipped outside of the U.S.
but please email us with any problem and we will do our best to rectify it.
---
I understand the unwillingness to buy something without seeing the actual product so here is another option!
Request a 4x6 print at a cost of $10.00 (free shipping to you). If you are satisfied with the print you can either send it back in the original packaging and condition and apply the $10.00 to a larger print or you can simply keep it. If not satisfied just return the print to us for a refund.
---
chuck@godscountryphoto.net